Regardless of where you are planning your wedding, at a Cavanaugh's BrideShow you'll be able to interview multiple bridal shops, wedding venues and recepetion sites, wedding photographers, florists, bakeries, caterers, ice sculptors, videographers, musicians, DJs, and more - all in one place! We are the ONLY bridal show that does NOT PASS OUT YOUR EMAIL!!! With one click, you can update your profile or opt out of all emails!!
Only at Cavanaugh's BrideShow can you smell the flowers, touch the gowns, taste the cake, see the photos, hear the music, and much more - it's a bridal show experience you won't find anywhere else!
Ever been to a fashion show where you have to sit too far to see, or once you find the gown of your dreams you have to wait till the end of the show to see it again. Cavanaugh's Bridal Show is proud to bring to Pittsburgh the trend that is sweeping across the nation - a Walk through Fashion Show. Only Cavanaugh's has many of Pittsburgh's and Greensburg's TOP Bridal Salons exclusively.
This new format allows for a more "personal experience" for the brides. Walk through the manniquins and live models, get up close and touch the gowns, see the detail, compare dresses on the spot, talk to the owners of the bridal salons, all while taking your time, shopping at your pace. Not sure which dress is perfect. Visit with participating wedding professionals and then come back for a second look. We have the largest selection in the city of bridal, bridesmaids, and mother of bride and groom gowns on diplay, showcasing a full range of gowns to fit into every bride's budget.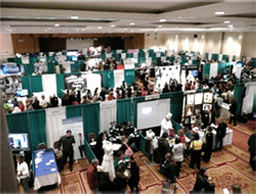 If you're attending an upcoming Cavanaugh's BrideShow plan to have fun. Bring your your bridesmaids, your mother and/or mother-in-law and your imagination and sense of adventure. You'll need plenty of help, because the Cavanaugh's BrideShow will be full of fresh new ideas, extravagant fashion shows, timeless traditions, and everything in-between. Remember - you'll meet "the best of the best" in Pittsburgh experts who know how to turn your wedding dreams into reality. Best of Luck!